Day Trader Loses Life Savings on One Option Trade
An amateur day trader lost most of his entire life savings on one short-term options trade. He posted in the Facebook group "Day Trading Stocks and Options" on Thursday to get advice for his predicament.
On Thursday, he purchased 161 contracts of a Twilio put option expiring the next day (Friday, November 20th). He paid an average of $4.12 per contract, meaning his total investment was $66,332.
This $66,332 represents almost his entire life savings.
The $285 put option was right near the money when the trader purchased it, but the stock quickly moved against him. After-hours, he realized he was down about 20%. However, you can't sell your options after-hours on most brokerages, so he would have to wait until Friday morning to offload his position.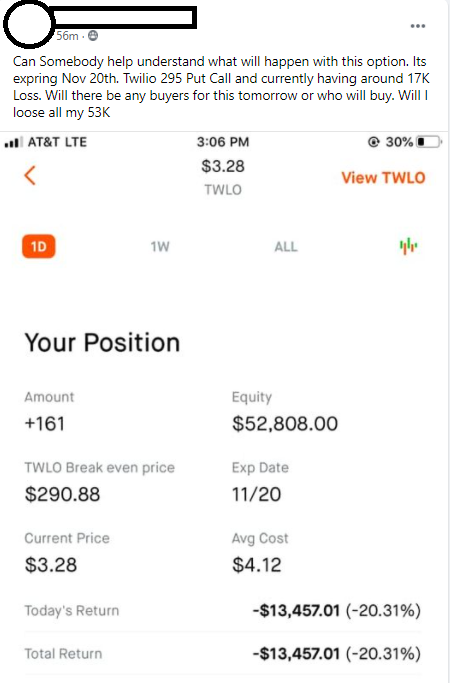 The trade moved against him even more on Friday morning. The option opened at $0.67, meaning his position was worth $10,787 at the open. That's an overall loss of 83.7%.
According to his comments on the Facebook post, this trade represented almost all of the equity in his account, and five years' worth of life savings.
As of 11:30am eastern time, the option is trading at $0.12, meaning this trader's position is now worth $1,932, a 97% loss. According to Facebook comments, he was still holding the position hoping for a surprise fall in Twilio stock this afternoon.
Twilio is up 2.73% to $303.71 today. Twilio stock would need to fall about 5.9% from here to reach the options' strike price.
Earlier this year, an amateur day trader committed suicide after seeing a $73,000 loss in his trading account. Unfortunate incidents like these raise questions about whether inexperienced traders should have access to derivative products like options. Currently, almost any investor can purchase naked call and put options; strategies that involve losses higher than a trader's equity are usually more difficult to get brokerage approval for.
–